MMM's FREE Health Fair for Veterans Coming!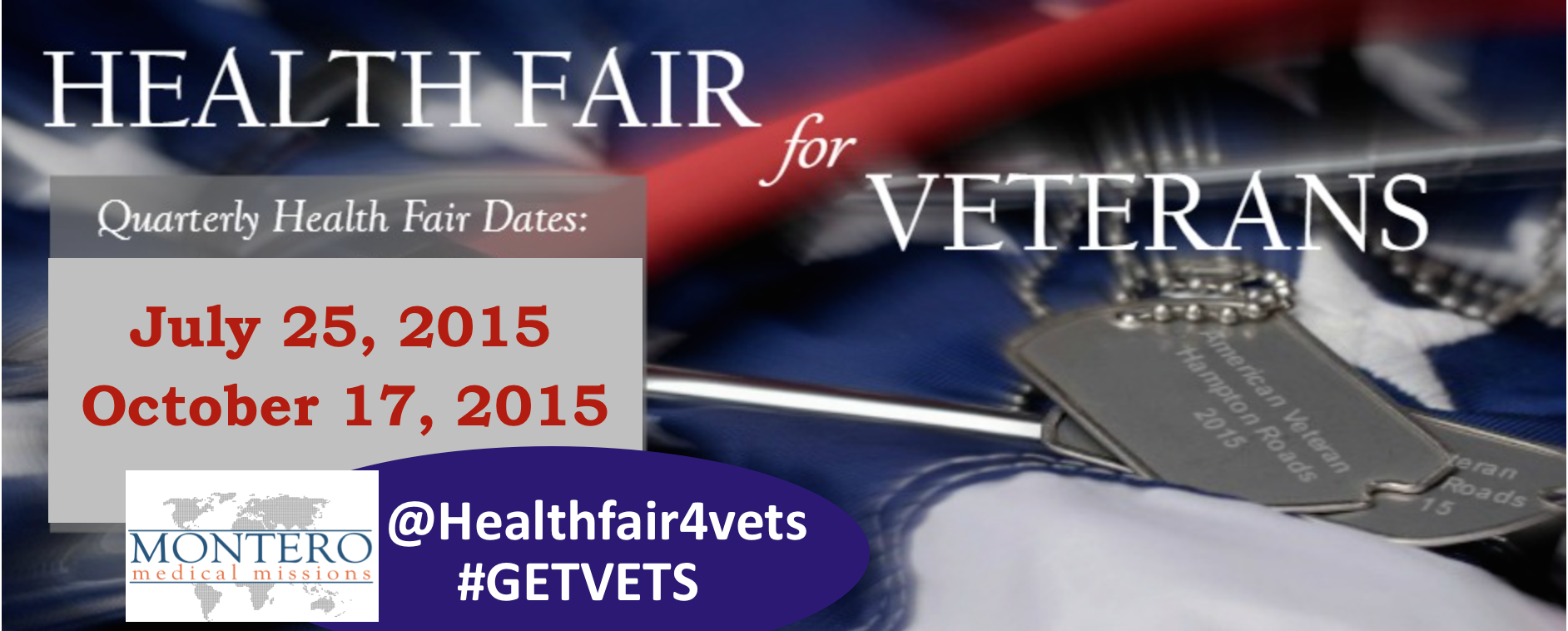 A note from MMM Vice President and Chairman of Health Fair For Veterans, COL (R) Jim Ireland: Mark your calendars and join us for our 3rd quarterly Health Fair for Veterans for 2015!The "Montero Medical Missions Health Fair For Veterans" (MMM HFFV) project is an innovative, free; quarterly event staffed and sustained entirely by volunteer doctors, nurses and community businesses with other organizations to support veterans in their health care needs.The next HFFV event will be held Saturday, July 25, 2015 at the Chesapeake Regional Medical Center Life Style Building at 800 N. Battlefield Blvd. Chesapeake, VA 23320 from 9 A.M. to 1 P.M. To participate, you must be a veteran, bring a military ID card or DD Form 214 (Certificate of Release or Discharge from Active Duty) and just show up, no reservations necessary.
For free round trip transportation (wheel chair capable) call 757-598-2666 or e-mail info@monteromedicalmissions.org (give us your name, address & phone #).
 Upon arrival you will be greeted and assigned a personal escort to guide you through the screening process. Free breakfast and lunch available along with a heartfelt gift as a token of our appreciation for your service to this Great Nation.We will provide free eye exams, issue prescriptions, and fill them with free eyeglasses thanks to The Lions Club, who will also offer free hearing tests!Don't miss this great opportunity for dental screening! Those who qualify (more than 100 veterans) will be offered free dental care will be offered!
  Physicians and Services Provided:
        - Triage                                                        - Eye Sight
- Mental Health                                          - Women's Health
- Prosthesis/Orthosis                                - Chiropractic
- Dermatology                                            - Physical Therapy
- Job Assistance                                         - Social Worker
- Dental                                                       - Veterans Claims Assistance
- Hearing
Please spread the word and attend one of our 2015 quarterly Health Fairs, conducted at the Chesapeake Regional Medical Center, 800 N. Battlefield Blvd. from 9:00 A.M. to 1 P.M. on the following dates:
Saturday, July 25
Saturday, October 17
See you there!Respectfully,James W. Ireland, Colonel, USA RetiredFor more information, call 757-598-2666.